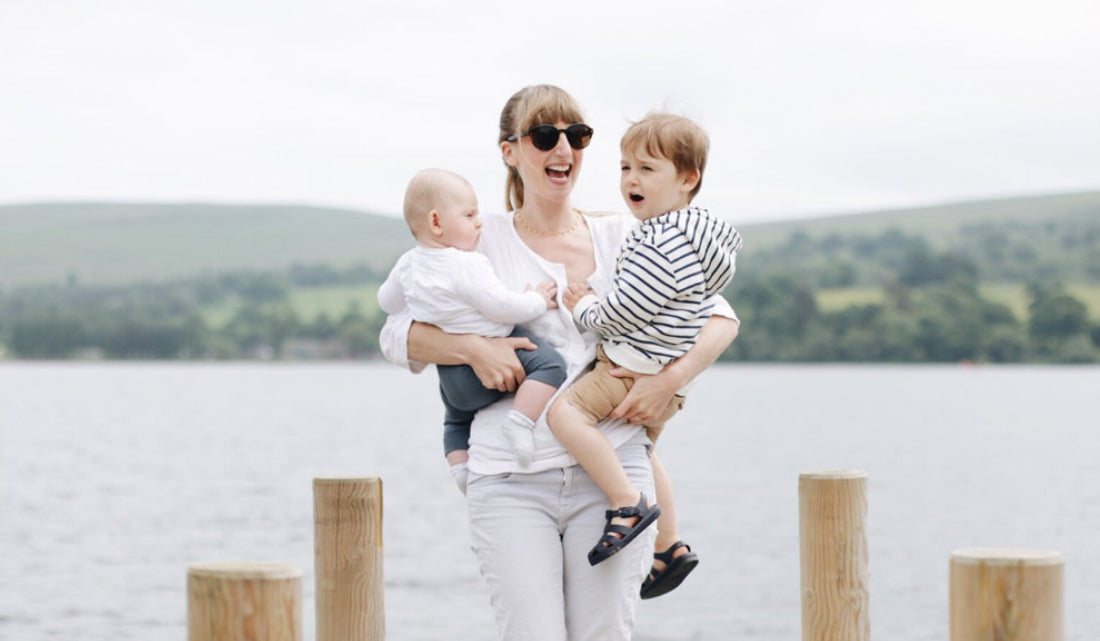 What simplicity means to me with Hannah Straughan
Today I'm so happy to be sharing an interview I did with my gorgeous friend Hannah. Hannah's instagram account is hands down one of my favourites to follow. Hannah shares her family life through the squares of Instagram and her beautiful blog. Her photography is stunning; muted, light and dreamy. Hannah shares, with inspiring honesty, her real experience of life as Mummy to Oscar and Wilf - who are both scrumptious (see above).
I asked Hannah if I could interview her for this series because her home and style are gorgeous in their simplicity, but also knew she shared my love for intentionally and presence, and her answers honestly blew me away. Hannah is someone I feel really blessed to know and am so chuffed to be able to share her words and pictures with you.
What's your favourite way to spend a slow day with no plans?
I love the days when the four of us; me, Ben, Oscar and Wilf have no plans made in advance. Ben is a doctor and works a lot of weekends, so I really treasure the time when he's around. Our favourite thing to do is to go out for brunch together, as early or late as we can manage to leave the house with no stress or hurrying, to one of our favourite indie cafes in York. Oscar will get a little babyccino and ask me to 'draw' a face in his frothed milk so he has his own latte art, and he'll steal my pancakes and Ben's bacon. We have National Trust membership and love wandering around our local property - I love seeing how it changes with the seasons and Oscar is always happy to play in the adventure park and build a den in the woods. Our youngest, Wilf, blends into our day peacefully and whilst he prefers to nap at home, if we're out and about with Oscar he'll happily watch his brother with wonder all day long.
What simple moments will you always remember?
Cuddles on the sofa with one child tucked under each arm. Holding Wilf in my arms for way longer than I really need to, after he's fallen asleep in the evening, watching the fading light outside and his angelic, innocent face (and remembering doing the same with Oscar before he became a 'big boy'). Ben and I taking an evening walk every night on holiday this summer, whilst the grandparents sat with the sleeping boys, sometimes chatting about everything and anything, and sometimes silently watching the sun set together.
Any go to tip for feeling organised?
I really wish I was more organised, but it's always been a struggle for me. I'm not good at planning, but I feel organised only when everything is done, so my solution is to power on through in one big burst of stamina when the motivation is there, until I feel satisfied that I've achieved as much as I can.

What simple meal is always a winner?
When the nights get cooler, my go-to comfort dish (and Ben's favourite meal that I cook) is a chicken and leek pie with a puff pastry lid - it's like a big warm hug of a meal. In the summer I love to throw together a fresh salad with whatever ingredients we have to hand, and recently we've been eating far less meat, so something like lentils, quinoa, cherry tomatoes, some fresh leaves and pomegranate seeds, and perhaps some feta or grilled halloumi.
What's your favourite way to unwind at the end of the day?

At the end of the day, screen-time is my nemesis: I love writing, photo editing, spending time on Instagram or watching something great on Netflix but it really energises me, and leaves me feeling wired. The best way to relax for me is to put my phone away and have a long, hot bath with some candles. I've also recently started going to yoga classes, and when I can muster up the motivation to go after the kids have gone to sleep, it leaves me feeling thoroughly de-stressed in both mind and body.
What does simplicity mean to you?
For me, simplicity goes hand in hand with mindfulness. To me it means noticing and appreciating the the things that are around us all the time that we only sometimes notice; the changing of the seasons and the colours in nature, or the way everything is basked in light when the sun is low in the sky. Sometimes I feel overwhelmed and too busy, and life feels fraught with responsibility, and the simple things get forgotten temporarily. I think one of the blessings of being a parent is the fact that kids are so full of the joys of simple things, they help you to remember the importance of appreciating life's little pleasures.