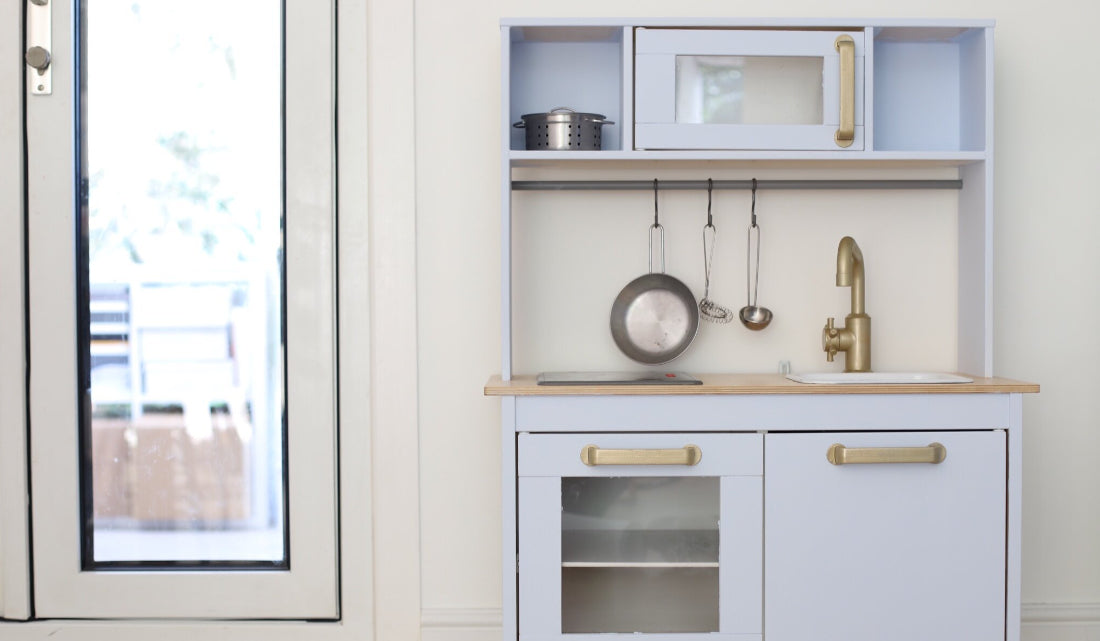 Ikea Play Kitchen Makeover
With all three children at home for the last few months it felt like the perfect time to give our Ikea Duktig kitchen a makeover. I didn't know exactly how I wanted to style it but I had bought this gorgeous soft blue paint to paint the kids new bunk bed and I loved it so much I decided to use it as the colour fo the kitchen too.
There are loads of DIY posts on this particular Ikea Hack so I won't do a full explanation of this project but I'll share the basic steps I went through and the products I used to create this look.
Our kitchen was fully assembled so to save time I used Frog Tape to tape off the worktop and plastic window to avoid getting any paint on them. I removed the tap, sink, hob and handles and began painting.
As the Ikea Duktig kitchen is made from veneered wood you need to prepare the surface before painting. I believe you can sand it to roughen the surfaces but I had some Benjamin Moore Stix primer left over from previous decorating jobs and it is amazing. It goes on nearly any surface and once dried, any other paint will adhere to it. Magic! After the undercoat of Stix had dried, I painted the top coat. I did two coats in the end.
Finally I spray painted the handles and tap with gold spray paint and the sink with a gloss white spray paint (which actually makes it look much more like a real sink)! I did two coats for each of the spray painted items and left them for 24 hours to dry in between.
I'm so pleased with how it's turned out and it's certainly brightening up our open plan living space. Below is a list of the products I used: